Surrendering to Sinai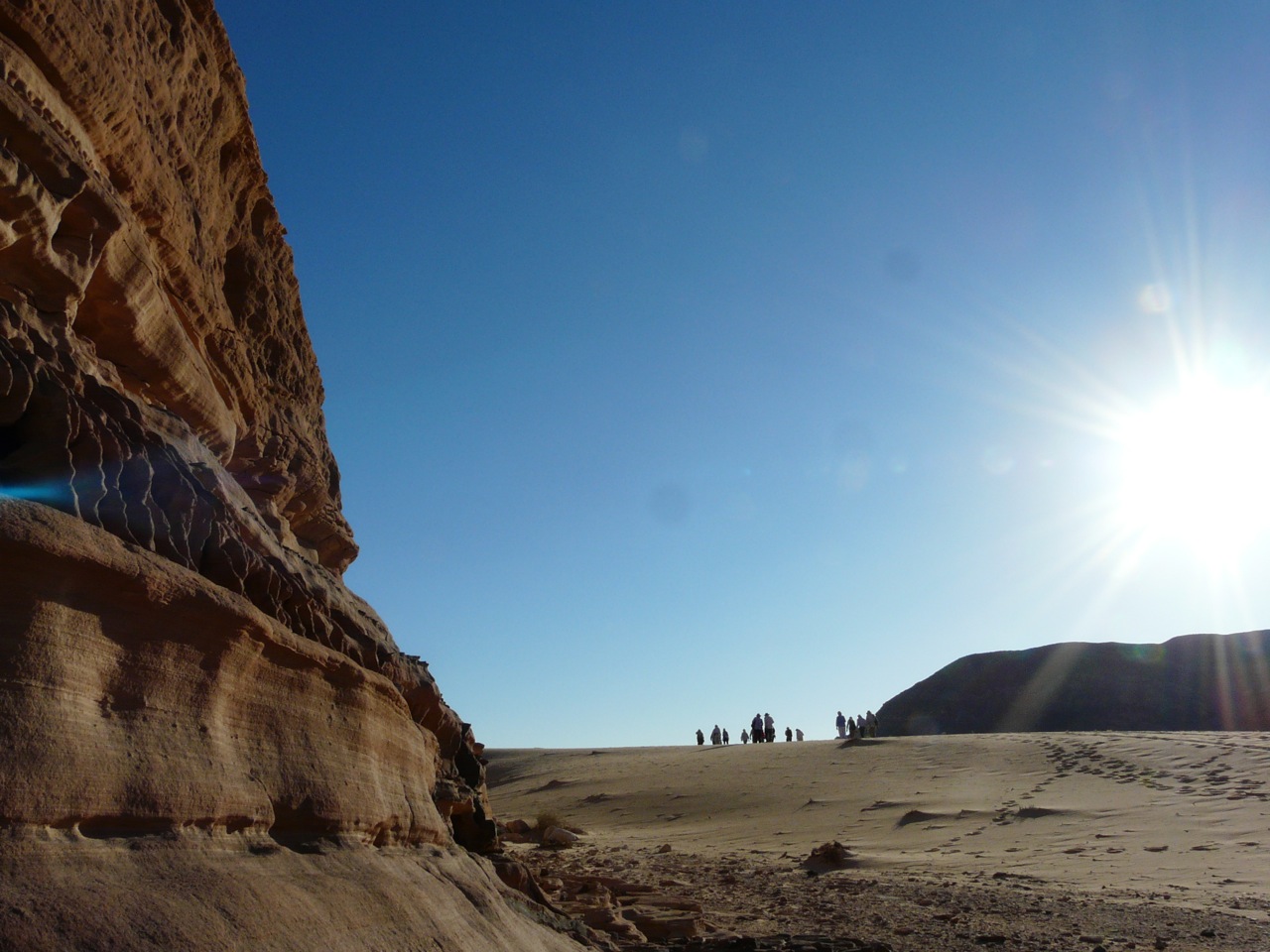 We are grateful to Elaine Gisbourne & Jo Love for this article,
recently published in the Coracle, the quarterly magazine of the Iona Community.
When Jo Love fulfilled a longing for the desert, Elaine Gisbourne caught the spark from Jo's recollections and set off on a similar trip a year later. (Curiosity has now rubbed off on Elaine's husband Michael, and he'll set off this coming October – so beware, friends, of reading further!).
This is the shared story of the surprises and wonders Jo and Elaine discovered on their first encounters with South Sinai.
Jo's memory…"I always had a thing about deserts. I've no idea why. Until October 2013, the nearest I got was the coach ride across the Arizona Desert to visit Grand Canyon in 1986. The tour guide warned of a boring journey, and soon everyone just fell asleep. Everyone, that is, except me. I sat staring out of the window, captivated by a beauty I defied anyone to call boring! Twenty seven years of yearning later, another desert, true to all my expectations and more, welcomed me 'home' with open arms."
Elaine's memory… "People said, 'So you're going out into a desert, in the middle of nowhere, to do nothing for a week, with people you don't know?' And I said, 'Yes! And I can't wait.'"
The week's "Adventure into Silence" with leader and facilitator Sara Maitland, was organised by tour operator Wind Sand & Stars, who go far beyond their reputation and impeccable record as leading specialists in high quality historical and spiritual journeys.
So for us, what was it like? What was our experience of the desert? We both read in advance the book Sara wrote and would draw from her sharing from A Book of Silence with the group each morning, with its appetite-whetting, history-spanning overview of humanity's relationship with silence in different times and contexts, and its enticing tales of Sara's own chosen and unchosen experiences of silence, both in solitude and in community. She wrote of having found in the desert "the deepest silence I have ever known." Would we echo that sentiment?
Our mosaic of memories which follows, is of a shared joy, yet experienced a year apart; memories which cannot, will not, fit into coherent descriptions and neat anecdotes; but may give some sense of what we remember, treasure, and will never forget…
It was a week of nothing but me and God. I remember how exciting it felt in the expectation. "I will lead you into the desert…" I was utterly blown away – yes, this is possible! Oh the luxury of being in that space, under that sky, sitting there all day in that silence. Away from the distractions of home. Time to get deep into prayer. The sheer wonder of sleeping under the stars – with nothing between me and space, the universe… with my skin on the sand and my skin under the stars. I didn't want to sleep! The sky was like velvet, a deep blackness, a blanket, yet lit up with these thousands of winking eyes! And the daytime was a blue and gold world. How different from our familiar green and grey. Blue, searing blue, and the earth was gold.
It came home to me how our ancient faith stories inhabited this landscape… Moses, Abraham, they were there. Meeting God of Mount Sinai, of the wilderness. This is where they wandered. Not that I read these stories though!
There was a stripping away of all of everyday life, a breaking of barriers. It was the quality of the silence, the silence and God; the silence was the voice of God, the presence of God. For me, it was as if God entrusted the desert to be all I needed. The desert brought me its love on God's behalf.  I didn't want to fill the silence with words. I wanted it to be as pure and deep as it was.
The desert felt ancient… as the Ancient of Days. This place could hold me. I felt welcomed, cared for. It was such a safe place, kind and beautiful, and it held me. I belonged. I sat and I knew, it's enough to be here. It's God's gift. What freedom and joy – deep, deep joy. I did not expect to feel so happy! There was a strange reassurance – to know that when it's just me and God I'm at my happiest. It made me see much of life as superficial – but deep, deeper is the Ancient of Days where I'm happy.
I expected to be laid bare, so there were trepidations. But I was up for that – if work needed done I would do it – "sort myself out". I thought I might find when I went deeper there'd be repressed stuff to find – psychological work to do. Instead, the realisation was – "Underneath all this I'm… sinful? No! Beautiful!" This was not how I'd imagined it would be – I needed to get out of my head, but gently, gently. Once there, I didn't want to put words into it – it felt so inadequate to try put in words. There was such a quality of "there-ness" – just be here and do what comes.
We walked each day too, the geology changing with every new direction from camp. Volcanic remains. Yellow and purple ores and sulphites.  Raspberry ripple sandstone! Running like children down the dunes at the Dragon's Eye. Fingering smooth silica pebbles. Back to base as the sun set and the moon rose.
Ah the joy and not a conditional joy. We had raucous nights around the campfire! As my joy increased it seemed so did others'. I remember the Bedouin singing to us – and us singing, "You canny shove yer granny aff a bus!" I remember their stories of their way of life. How the camels are their greatest treasures, and how they know where every person and animal and vehicle has been by the tracks and footprints in the sand. Listening and smiling and hugging another tin cupful of hibiscus tea from that huge, blackened kettle! Watching the fire die down to charcoal and ash, and everyone peeling away contentedly to keep silence till breakfast.
We were spiritually and physically safe and what a gift that was. It was the gift of the place itself, of the Bedu, of Wind Sand & Stars. There was no palpable sigh of relief, it was a given that could be trusted.
I know now that the deeper silence is there, always there. The noise of life is so superficial. I didn't feel I left the silence behind. I can be present to the silence. I heard the silence there, so I can listen for it now anywhere.
We don't have to earn or strive for our sense of being. I'd heard about 'breaking down ego boundaries' and now I've felt it – a total acceptance – who I am in God's presence – that's not about solitude. It's not an exclusive presence but frees me to be more real with others. I came back to work with all its stress and that is real but I don't feel it penetrates the silence.
It was a moving from head to heart, from knowing to feeling, made possible by the level of surrender to the landscape. Surrender was a huge part of it all. Falling in love like it should be. I never would have believed I could sit still for so long, just sit and gaze, and be so happy.
Next Spring, Jo will return to South Sinai to lead a retreat for the Iona Community. The next Adventure into Silence with Sara Maitland will take place in October 2016. Please contact Wind Sand & Stars for further details of both of these journeys. 
30.09.2015