Musings from a Leader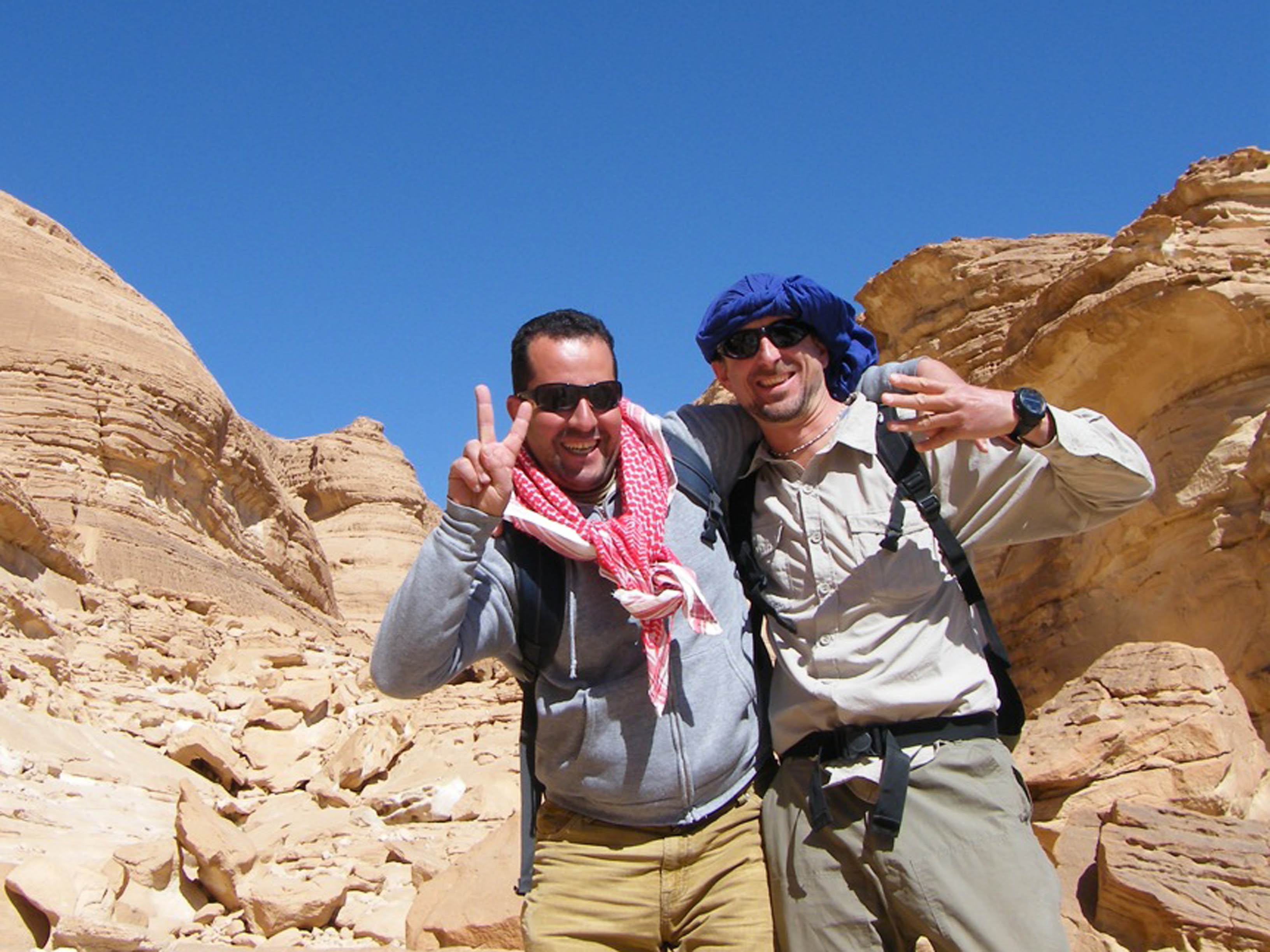 Wind Sand & Stars leaders are carefully selected not only for their essential safety skills and experience, but also for their ability to communicate and inspire the pupils in their care. Leader Jim Lewis (pictured with one of our Egyptian guides Hadi, to the left) shares his thoughts on a typical week spent travelling through the South Sinai desert with a school group.
A throng has gathered on the summit of Mount Sinai to witness the dawning of a new day; or rather, they've come to admire the sunrise but the grandeur of the occasion sways my words. For our small party, though, it seems strange enough just to be amongst so many people after five nights wandering in the solitude of the desert. It's amazing how quickly we've become used to our own company, to having space for our inner reflections and succumbing to the rhythm of desert time.
Waking up at two in the morning to begin this three-hour ascent, along a winding trail culminating in seven hundred steep steps, was the first time most of us had bothered to look at a watch for almost a week. Tonight we'll be lodged in a comfortable hotel by the beach in Nuweiba, on the Gulf of Aqaba, and will have left the simplicity of the wilderness even further behind, but we realise that we have each evolved in some small way. By making a physical journey through a landscape where the tradition of desert monasticism began with Saint Anthony in the 3rd century, we have also achieved some degree of self-realisation, as well as a sense of community with our Bedouin guides, and even perhaps the awakening of a wisdom that people have, for thousands of years, gone out into the desert to seek. Before we descend, one of our students shrewdly exchanges a cheese roll from his lunchbox for an onyx egg with a mountain trader – the trip certainly seems to have taught him something, at least.
We properly began our journey transferring from a bus onto several Toyota Land Cruisers at a remote spot under cover of darkness, a taste of the excitement and sense of adventure to come. We drove to a lonely wadi, where our English-speaking Egyptian guide, Hadi, waited for us with hot tea and biscuits by a blazing campfire.
As the leader of this student group, I am aware that there is a lot of information to impart and so spread my briefings out over time. For now, we need to know where we can sleep and how to take care of ourselves and our belongings throughout the night. Wandering off is not an option, as the scenery can disorientate in an instant. By the end of the next few days, though, our young party will be adept at moving across the sands and fragile rocks, having learnt much from the local Bedouin, and be practiced in avoiding the perils of too much sun and too little water. We'll learn to make camp, arranging colourful rugs around a central fire, and dig latrines, and also have gone some way towards understanding the ways of our camels. Such are the basics of staying healthy and happy in a harsh and inhospitable environment.
Throughout the next four days, one on foot and three on camel, we explore the region surrounding Gebel Matamia, an area of beautiful sandstone outcrops, sculpted canyons and whispering dunes. At the oasis of Aun Hudra, where permeable rock lying over welded granite gives rise to an underground spring never known to have run dry, we are presented with a huge plate of dates, fresh from the trees that are tended here. We seek shade for the hottest few hours each day, to wait, as the Bedouin say, "until the sun has broken". We visit the Nawamis, dozens of five-thousand-year-old tombs built by an unknown people, and tentatively described as the oldest roofed structures in the entire world. Not far away, an inscribed rock records the passage of tribes, caravans and pilgrims from as far away as Petra, Jerusalem and the cities of Egypt. We scramble up ramps and over rocks to discover impressive natural features, mountains with holes bored through them by the wind, fluted columns and eroded honey-combed cliffs. It is a geographer's delight to see a landscape so astonishingly alien to our own, and yet so intricately varied and fascinating.
In the evenings, we gather around the fire for tea, stories and murmured conversations, or merely to contemplate the flames and take a rest. A night walk takes us up onto an adjacent plateau to see the desert landscape beneath the light of the stars, pale, still and mysterious. Constellations abound in the indigo sky, the reddish tint of Aldebaran and Betelgeuse distinctly apparent. It is fitting that so many stars were named by Islamic astronomers, as we identify Altair (from an-nasr at-ta'ir – the flying eagle), the brightest star in the constellation Aguila, the eagle, and Deneb (from dhaneb – tail) in Cygnus, the swan. Throughout the night, when we awaken and turn over on our sleeping mats, lying out in the open wadi, the heavens have revolved above us and the stars have all changed. The night wind is chilly, but as soon as the light of dawn begins to grow we know that the heat of day will soon be upon us. With faint stirrings, a kettle is boiled and breakfast made ready. The Bedouin roll balls of dough into flat discs and bake fresh unleavened bread over the fire, talking and laughing quietly amongst themselves as they drink sweet black tea. Any early risers amongst us are keen to try their hand at this age-old craft, with results often shaped like continents but improving with time and practice.
By the second morning, the camels will have arrived and we can begin our stately trek, seeing the terrain from a new perspective and with a revived sense of wonder brought on by this time-honoured mode of transport. For our students, their arrival stirs up plenty of excitement and a good deal of merriment. Though hobbled, they occasionally approach the camp looking for treats, and their gurgling and groaning at times interrupts the stillness of the night. We feed them cardboard boxes and orange peel, as a dietary supplement to the unfeasibly prickly plants they otherwise seem to favour, and they look down at us with delicate features (they are said to be the only beast to know the hundredth name of God). We also observe regurgitated food making its way up and down their necks, like watching a kitten at play under a sheepskin rug. They are most certainly curious and entertaining animals. Having seen camels in the bitter depths of winter in Mongolia, I can also attest that they are incredibly well suited to survival in some of the harshest environments on the planet. It's time for another briefing, this time carried out by three students charged with managing the risks, getting some tips from the Bedouin and then briefing the rest of the group about how to survive a camel trek without a fall, a bite, or being trodden on or kicked.
The desert is an inspiring place to dwell. It conveys a sense of immediateness to all your thoughts. Everything you need concern yourself with is right there in front of you, picked out in stark contrast by searing light. You have only to remove yourself a short distance from the rest of the group, which we organise daily for everyone to be able to appreciate, and you can find a silence that is unlike any other I have ever known. With no noise and no distractions, it can be challenging for any one of us to go and sit alone, even for just half an hour. By the end of the week this daily dispersal will have provoked much emotion and reflection, and few will have been left unmoved by the experience.
22.02.2012