Being in the wilderness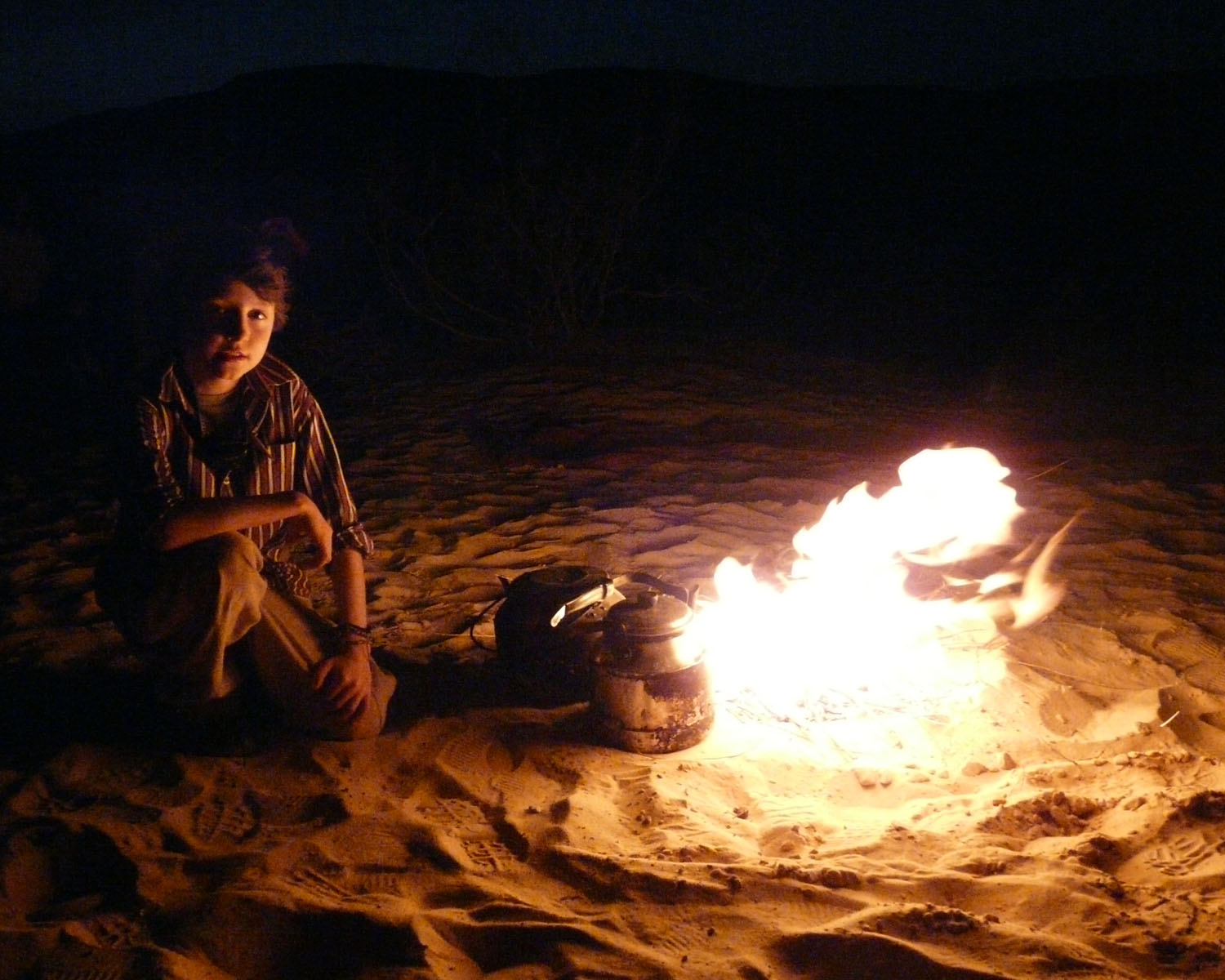 Rev Dr Emma Loveridge, who founded Wind Sand & Stars, takes us to her own private wilderness which she has created in Devon to reflect on Jesus' forty days and forty nights in the wilderness, drawing upon her experiences in the South Sinai Desert.
We are grateful for her permission to share this transcript below from her recent programme on BBC Radio 4's Lent Talks.
You can listen to the full broadcast, made on 21st February 2016, by following this link: http://www.bbc.co.uk/programmes/b070fn20
It's twilight and I've just walked along the old Roman Road near where I grew up on the Devon / Dorset border.  It's a small road, up high following a ridgeway, still straight as an arrow centuries later. Generations of farmers, smugglers, plough horses, dogs, children and now tractors, have journeyed along here from dawn to dusk.  The sun has just died but the silky fire streaks still run through the sky. And here I am clambering over an old style five-bar gate.  This may not be your idea of a wilderness and it's certainly very different from the desert wilderness where Jesus spent 40 days and 40 nights.  But here, in a small coppice, I've created my own version of wilderness – a place of retreat – a traditional shepherd's hut. 
I know the track ahead really well, yet every time I take a step further between the trees I wonder with anticipation what I will see, hear, think and feel as I turn the corner and arrive at my dusky red hut with its corrugated tin roof.  The experience is different every time and that is both the wonderful and terrible thing about a wilderness place; it never treats you the same way twice.  It depends in part on the environment and in part on the way you are feeling.
Twilight and pre-dawn are the times of day I most love and most fear in any wilderness place.  They're the edges of the day; when I am in London working and in the midst of a busy life, sadly they often just pass me by – but in a wilderness place with all the human distraction gone, they can provoke hopefulness and despair or anything in between without warning.
Wilderness; it's something I am drawn to again and again.  Wilderness has always been part of the Christian narrative, the imagery deeply woven into our theology. The story which has given us Lent, the ritual period of 40 days leading up to Easter, tells us that Jesus was "driven" to seek out a desert, a place apart, away from the familiarity, the comfort of his then everyday life. A place where he would be tested and struggle to explore his human limitations.    
It can be a difficult story to engage with unless we too have stepped out of our well-trodden routines.
The recent heavy rains here have half flooded this area, but I am standing on a dry tuft of grass that has survived the winter rivulets and I am looking up at the last of the white, winter light shimmering across the land, low on the horizon.  It flattens the trees into indistinct forms.  Although I am in the heart of Wessex, with deep green hedges waiting to bud, the way the light deceives my eyes reminds me of another wilderness – one I lived in on and off for many years – the Sinai desert in Egypt – rugged, red, desiccating and with the crunch of sand not the squish of wet soil beneath my feet.
For 20 years I took people from the west to travel and work with the nomadic tribes of the Sinai desert, away from the comfort of their usual lives.  My role was to bridge the gulf between settled westerner and roaming Bedu.  Sinai is part of that same rift valley desert where Jesus lived in spiritual turmoil before the beginning of his public ministry.  Growing up between the gentle rolling hills of the West Country, I had no concept of what it was like to be in a desert.  The unpredictability of the terrain; the burnishing heat, pulsing through the valley, every trickle of sweat reminding you that without water you are frighteningly mortal. And there were more surprises to come on my first Lenten February there, when the frosted ground glistened as the moon set; it was cold right through to the bone.  I would walk up to a high pinnacle, similar to the parapets described in the Gospel of Mathew where Jesus was tempted, just to catch the first hint of warmth from the sun's rays and I have always suspected he did the same.  And then I would wish my mind hadn't been so impaired by that cold, as in the dawn light the way down looked impossible.  Then I would breathe sense into myself and look out and remember the lack of anything manmade in sight.  To my mind it was stunningly beautiful, but it was empty.  An emptiness that sends a wash of fear through your very being as you realise you're standing on a ledge, a physical and emotional edge, where no one would break your fall should you stumble.
The reality was I was never as brave or as foolish as Jesus, I never went too far alone; but I did again and again experience the incredible unpredictability of a wilderness place and the differing states of mind which happen in parallel.  Exposing yourself to that experience and the sense of that dread that can come with it, is what entering a wilderness is about.
When I came back to England and went in search of a way to create for my family a tiny wilderness experience of our own, a place away from the daily hurly burly, I settled on this beautifully made Shepherd's hut, and if we step inside now and shake off our muddy boots, the log-burner in the corner sends out its glowing, crackling welcome. 
People have all sorts of romantic ideas about wilderness. We can idealise Jesus' time in the desert all too easily, as he returns having triumphed over Satan's temptations. We can too quickly dismiss his terror at having no bread, the symbol of home and hearth, but only stone all around or underestimate his exhaustion as he slid and slipped on the shaly sandstone hills with the giant pointed rocks beneath.
It's a land where transformation of mind and soul can be a reality, a way of life even, especially in that space between darkness and light when the desert offers a time for stillness which no city ever considers.  And then twilight and dawn bring an added dimension; a strange light which deforms the world. One morning in the desert, I watched the light strike a sandstone ridge at such an angle that it looked as if it swallowed the world. Every colour was submerged into an optical illusion of shining nothingness.  It was as if nothing existed out there.   "It's the time of day in my land" my old Bedu friend, Sabah, almost whispered "you have to decide to live or to die".  I understood what he was saying, the purity of the light, was mesmerising, it felt like you had to choose to breathe again.  But it was also distorting and shifting.  You could easily get lost in this place, in so many ways, in mind, body and spirit. It was the story of Christ's struggle in the wilderness; the valley of the shadow of death and the hope of resurrection all rolled into his single sentence.
Sabah poked the buried ashes of the acacia wood into life, ashes still warm from the previous night.  If buried deeply at the end of the day, they will still be smouldering enough at dawn for the fire to catch the dried broom needles and give some much needed warmth. Sabah boiled the small pot for tea.  He had decided to live.  I wondered if Jesus had done the same.
The desert can be a place of salvation for those who pass through it – and make it to the other side.
One of the first Arabic words I ever learnt out in the desert was a colloquial Bedu word for salvation.  It has a three-dimensional quality which needs explaining.  In trying to help me understand what he meant, a young Bedu acted it out.  "It is", he said, "what we all crave."  He stood up suddenly and stood tall facing a distant horizon.  "It is to stand tall", he said "and to look to the furthest point without needing to look behind, without wondering what is either side, without hunching your back with the weight of your own fear, and it comes from within.  It is not to be burdened with fear but to be filled with freedom."
Journeys through a wilderness, whether long and far, or near and short, are often a search for such a moment.  I have spent much of my life journeying through such places, seeking them out.  When I worked in the desert, however, I learned that it was as important to be able to find your way out of the wilderness as into it.  We always created the fire, the safe place to return to in case we might get lost.
Every wilderness experience, also needs a home-coming. Every Lenten journey needs a resurrection.    
And actually just thinking about that now, rather than just staying here in the shepherd's hut, we should go for a walk into this little wilderness.
Any place where we feel on the edge can be magnificent but it can also be terrible.  Coming here I climbed the gate feeling elated, a little time out from the world. I think of the people past and present who have made it possible for me to have this space, I'm filled with affection for those who've guided me through the deserts I have travelled and love for my family with whom I share this place.
But there is more to this wilderness as well, so now I am going to turn away from the light seductively hanging in the window and take you deeper inside.
The dark is just settling over us and I am walking towards the ancient hedge line.  An hour ago it beckoned to be peered over, the view beyond expansive, but in the dark it's creepy and to be honest, a slight panic comes over me.  All of a sudden I'm alone and afraid, as if the straggly old hedge, without the light of sun or moon on it, now represents all that is dark within me as well as outside.
I feel a tiny inkling again of what it is like to live on the edge, paralysed with fear.  My mind and intellect stop protecting me, I tell myself I am safe, grown up, in a place I love – but a wilderness has its dark side and in a way that is the very point, to know it's there but even more so you need to know you can return. The hope of a way out of the wilderness is as important as the way we got in.  And surely that is the point of the story of Jesus' time in the wilderness, that he has to find his way through it, not hide there, but find a way back out to the pathway he chooses to follow.
Enough of the fearful dark side of the wilderness. It's freezing and the ground is already starting to harden under my feet.  Time to find the fire.  So I am going to head back now – I am walking faster through the shadows – and finally, though still outside, I am near enough to the shepherd's hut to see the glow of the fire, and know that in a minute I can step inside.
And that's what time in the wilderness does for me, it gives me moments when I realise how terrifying it is to live on the edge; the edge of resources, the edge of a family, at the edge of Europe as a refugee, on the edge of health or under the edge of a sword across your land stealing the future.  And it reminds me how privileged it is to be filled with a hope, a knowledge even, that I can return from the edge and find the welcoming fire.
I now run a psychotherapeutic clinic in Central London.  I work with individuals and families on their internal journey into their own wilderness, the desert that lies within themselves.
I like to think of my consulting room as the fireside in the desert.   While you visit your own inner wilderness, a place you wouldn't normally go for fear of getting lost, and find emotions you wouldn't dare to feel in case they overwhelm, someone is waiting for you by the warmth and the light of the fireside.
As I sit here in my shepherd's hut warm, relieved and safe, I know that getting into a wilderness is all too easy, some of us are forced there physically, some of us are neglected in a wilderness without love, some of us just tumble into an emotional hole with not enough help to find a way out and some of us are enticed by a beauty, a deceptive simplicity, and the search for God.
And for those of us who believe in salvation, then the symbolic Lenten wilderness of these next few weeks, can be a time to struggle in the way Christ struggled in the desert and to strive for our own freedom and then for the freedom of others who have lost hope along the way.  In all my lifelong experience and love of wilderness, I am deeply aware that the freedom I find there is greater than the fear because of those who have lit, and kept alight, the fire beyond.
01.03.2016