Journey overview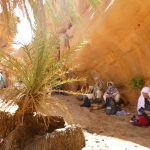 Come and journey with us through a stunning and ancient desert landscape.
The story of Moses, a place of refuge for Elijah, inspiration for the Desert Fathers and remnants of the crusades and medieval pilgrims who came before us are all integral to this gentle adventure across South Sinai. The unique desert silence, the beauty of the sandstone hills and the opportunity for reflection have drawn people here for many hundreds of years. As we travel with our semi-nomadic Bedouin companions through their desert land, we take in historical sites including chalcolithic tombs, ancient inscriptions and, of course, the remote St Catherine's Monastery, one of the treasure houses of early Christian manuscripts and art.
The itinerary will involve riding on camels under the expert guidance of the local Bedouin, as well as optional trekking on foot with daypacks, supported by camels to carry main luggage and with back-up from 4-wheel drive vehicles. A gentle pace can allow time for quiet reflection as well as collective worship, giving a unique opportunity for a sense of timelessness away from the pressures of modern life.