Journey overview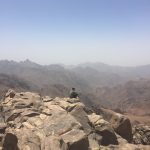 South Sinai's high mountain region is a beautiful and rugged land steeped in history. This spectacular trek follows mountain paths trodden over the centuries to ascend iconic peaks including Sinai's highest mountain Jebel Katerina (Mt Katherine) at 2,642m, and Jebel Mussa (Mt Sinai, 2,285m), where Moses received the Ten Commandments.
On the way we explore the ancient ruins of Abbas Basha, an old Ottoman palace perched at 2,383m and never completed, bathe in the deep blue pool of Galt el Azraq and we can rest in the many lush mountain orchards where apricots, pomegranates, almonds and mulberries grow. At the end of each day we make camp and watch the sun's red glow upon the granite peaks that tower above the desert floor. Guides from the Jebeliya bedouin tribe accompany us through this incredible historical landscape and host us around the campfire at night, where we will sleep beneath the stars.
We walk at a steady pace carrying day packs and following established mountain trails, which may be steep and rocky and involve some scrambling at times. This itinerary is only suitable for those with some hillwalking and UK grade 1 scrambling experience. The group will be led by an experienced mountain leader in addition to our Jebeliya guides. Our camels will meet us at our camp each evening with our main baggage and food.